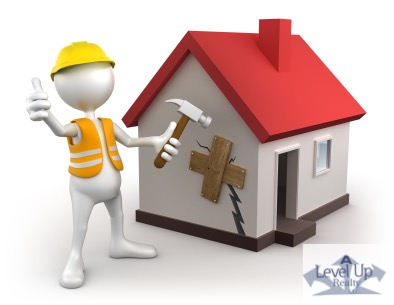 Have you ever wondered how much you should improve your property before a tenant moves in to fill your rental vacancy?
A Level Up Realty Property Management will handle any of your property's maintenance needs through Home Maintenance Solutions. We have an exclusive agreement with them to aid our owners in getting their properties ready to be rented quickly. Home Maintenance Solutions is 3rd party contracting company that is more then qualified to handle minor maintenance requests. They provide quality property maintenance at competitive pricing for you to have the best maintenance crew at your disposal.
To ensure that you receive the most competitive rent price for your property, an expert from Home Maintenance Solutions will perform a free rent ready inspection before the home is marketed for rent. You will receive a rent ready bid listing any items that need to be addressed for your home to be in the best showing condition. After the tenant leaves, an expert will also perform a free move-out inspection to see if the tenant left the property with any repairs above the normal wear and tear.
All bids are completed electronically and can be accessed in your owner portal, so you will be able to see pictures and descriptions of any property maintenance repairs that are being completed. Unless it is an emergency, we must receive approval from the property owner BEFORE any repairs are completed.