Tucson Property Management
Steps To Level Up your Property Management
A Level Up Realty License Realtor will check the condition and note the upgrades of the property
A Level Up Realty License Realtor will talk with home owner about what needs to be done prior to marketing the property for rent
A Level Up Realty License Realtor will review rental comps in the area that have been rented over the past year
A Level Up Realty License Realtor will give an educated per month rental amount to the home owner Signing on with A Level Up Realty
The Property Manager will call the home owner to introduce themselves and finalize the paperwork
A Level Up Realty will coordinate any maintenance, cleaning, or carpet cleaning at discounted rates. (If needed)
A Level Up Realty will email you a user name and password to your 24/7 OWNERS PORTAL.
Update contact information
Real-Time threaded conversations with property managers with email alerts
View and approve work orders
View bills and attached invoices
Access owner statements
Make electronic contributions to the portfolio balance
Run real-time reports
Access shared documents
A Level Up Realty Rental Marketing
Within 24 hours of the property being signed on: A Level Up Realty begin marketing your property on over 100 websites Including social media.
A Level Up Realty will call the home owner to discuss the properties showings, rental status, and move in date for new tenants.
Step 4. A Level Up Realty Tenant Screening Guarantee
A Level Up Realty will run credit and criminal background checks on all potential tenants at no charge to the home owner
A Level Up Realty will get a proof of income/employment
A Level Up Realty will contact the tenants past landlord to check their payment history and the condition of the property when they moved
A Level Up Realty will interview the tenant to see if they have pets, special requests, and finalize the move-in date and rental amount
A Level Up Realty will perform a routine inspection report of their property every 4 months.
A Level Up Realty will help you through the evection process in the unlikely event that it becomes necessary
A Level Up Realty Move-Out Process 30 day Move-Out Notice Received
Within 48 hours of receiving the 30 day notice: A Level Up Realty will immediately start to market and get the property re-rented as soon as possible
To assure owners doesn't lose ANY proceeds, Perform the move-out inspection streamline turn to get new tenants in as fast as possible.
Final step our owners rate us 5 star and you continue to Live A Level Up!
Explore What We Do
As your Tucson Property Manager
---

Marketing
Marketing is key to successful rentals. We provide an expert market analysis for each property we manage to maximize your return on investment.

Tenant Screening
We conduct extensive screening on all tenants and handle every aspect of getting your investment rented in the shortest time possible.

Rent Collection
We make sure you get paid on time, every time. You no longer have to worry about rent showing up in your bank account.

Maintenance
We conduct inspections upon move-in and move-out and ensure all maintenance issues are addressed in a timely manner.

Financial Reporting
With our detailed financial reporting tools and online owner portal, it's never been easier to keep tabs on your investment.

Eviction Protection
In the unfortunate event that a tenant needs to be evicted from your rental, we will shield you from the stress and re-rent the property promptly.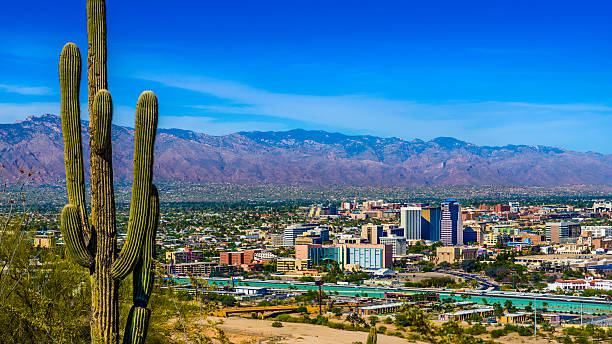 Discover Tucson
Tucson is a city and the county seat of Pima County, Arizona, United States, and home to the University of Arizona. The 2010 United States Census put the population at 520,116, while the 2015 estimated population of the entire Tucson metropolitan statistical area (MSA) was 980,263. The Tucson MSA forms part of the larger Tucson-Nogales combined statistical area (CSA), with a total population of 1,010,025 as of the 2010 Census. Tucson is the second-largest populated city in Arizona behind Phoenix, both of which anchor the Arizona Sun Corridor. The city is located 108 miles (174 km) southeast of Phoenix and 60 mi (97 km) north of the U.S.–Mexico border. Tucson is the 33rd largest city and the 58th largest metropolitan area in the United States (2014).
Source: Wikipedia
Sahuarita
Vail
Green Valley
Oro Valley
Marana
Rita Ranch
Tucson Estates
Corona De Tucson
South Tucson